Danny G. Felix
Just out with his smash hit "FINAO" this creatively clever artist from Down Under, finds his best self when living on the edge. Sydney born, Chi-Town influenced, and South America bound. As a young explorer taking in a Latin Music Festival one afternoon with his parents, the sound of Salsa caught Danny's attention, and from their a life long Latin music love affair began. Danny's natural ear for production and texture had been captured and ready for exploration.
Growing up multi cultural were the perfect ingredients to carve out his unique sound. An overall accomplished musician (pianist, trumpeter & composer) Danny brought plenty of talent to the table. Spending a great deal of time between the capital of Salsa music, Cali, Columbia and Sydney, Australia Danny has pulled together the best of the best in musician, culture, and sound with "MALO MALO".
MALO MAlO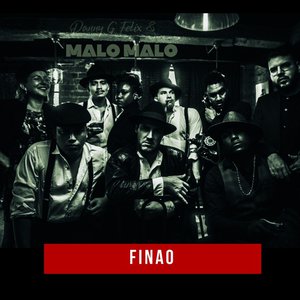 An accomplished orchestra collaboration of potently progressive Latin Music artists, performers, musicians
brought together and combined with Danny G Felix. This progressive Latin Musical unit has 2 versions of MALO MALO. One based in Sydney, Australia and the other based in Cali, Columbia.
This Band knows just how to fluff up the Classics to perfection. Bringing back the sounds of "Ray Barretto, Eddie Palmieri, Hector Lavoe & many others, Malo Malo mix up their palate of sound in a very colorful way. The abstract painting this band offers comes together and falls in line with Afro Latin, Guaguanco, Mozambique, Cha Cha, song & songo with inspiration from all over the world.
EME SANTANA
The Sound of Reggaeton and Rap artist "Eme Santana" Check out Eme's Social for a deeper look.
THE SOUND OF MALO MALO
Most Recently Danny G Felix x Malo Malo x Eme Santana bring you "FINAO" a song with a story to tell.
Cruising in off the high of their debut album "AustralineŃo" Malo Malo scored numerous "Album of the Weeks" and a top 100 album chart buster.
with original hits as
"Ritmo Caliente"
"Tombola"
"Charanguita"
This Collab of no nonsense artists have created a righteous combined sound of classic cool salsa, street soul, and Afro-Latin rythm carried with sick Jazz strikes of live instrumentation that sets up a multifaceted sound compilation.
This Album Australeño is – full of fun, fierce & funky drama. Bombastic bongo beats and sensually crispy vocals of Eme Santana. Eme's vocals carry the beautiful charismatic sound of Malo Malo from one end of the globe to the other.
++++++++++++++++++++++++++++++++++
GET YOURS HERE –
"AMAZON" https://www.amazon.com/Australeño-Danny-G-Felix-Malo/dp/B07S9MGJ9P/ref=sr_1_1?dchild=1&keywords="AUSTRALEÑO"&qid=1591583225&sr=8-1
"SPOTIFY" https://open.spotify.com/album/5aR2gYI5SoIXag6gdgPLxi