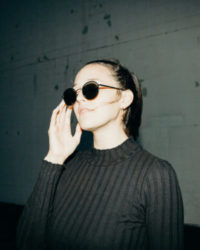 Alyse is a Salt Lake City Native Singer/Songwriter.
Now the Nashville based Alyse has exploded onto the scene with her single "Obvious".
As a born performer Alyse spent her early through college years dancing. Going from ballet to ballads came easily for Alyse.
Well into college, Alyse started out dabbling in Folk singing and songwriting. Completely inspired and fueled by the art of music she pushed forward to currently find her voice in an intimate and experimental space with her hit song "Obvious".
ALYSE lays out an effortless moody and haunting vocal vibe. The "Obvious" chorus validates her soft, but sure of self tone. With bang out bridges and the bass hits, "Obvious" is full of feeling.
Produced by Gavin Geddes "Obvious" takes you on a mystical music roller coaster ride of fun and FunkaMelodic twists and turns. This tune offers a unique vibe and offers the listener a level of satisfaction that has you asking for more. Alyse is currently working in the studio looking for a summer release. We'll look forward to much more from Alyse.
Instagram: @alysemorgan. https://www.instagram.com/alysemorgan/
Facebook: https://www.facebook.com/alyse.morgan.55/
Twitter: https://twitter.com/alysemorgan5